From:Roger Nicholls
Sent: 05/10/2007
Subject: Edward I'Anson

Dear Sir/ Madam

I thought you might like to know that my daughter, Helena, a student at the Royal Academy in London, has just become the proud owner of a violin marked:

Edward P. I'Anson fecit
Manchester Anno 1857

We had never heard of the maker before, but gather his middle name was Popplewell. If you know anything more about him we would be interested to hear.

Yours faithfully,

Roger Nicholls
East Dulwich

[Reply: Edward Popplewell I'Anson was the son of Joshua I'Anson and Matilda Ann Popplewell. He was born in Leeds 24 March 1830. His family appear to have been non-Conformists as he was baptised at Whitehall Independent in May of that year. He appeared on the 1881 Census in Hulme. His address there was 52 Walnut Street and he was living with his wife Mary and his mother.
M.L.I. ]


Date: 7 Jan 2007
From: Annette I'Anson Bloomfield

Hello Maureen,
I am descended from the Blakeway I'Ansons, through my paternal great grandmother Amelia I'Anson.

Amelia emmigrated to Australia toward the end of the 19th century after
marrying Clement Bloomfield. They had several children, all born in Australia, some did not survive to produce children themselves, but several did. I am the grand daughter of their youngest son, Archibald I'Anson Bloomfield. My father was Kenneth I'Anson Bloomfield and I am his only child Annette I'Anson Bloomfield. I have three children (all carrying the middle name of I'Anson as this has become a tradition in my family). I also have two granddaughters myself (also with I'Anson middle names).

I am in contact with other branches of the I'Anson branch of my family in Australia. Some years ago a number of them including my father and grandfather put together a very comprehensive family tree including
photographs and other documents. These I now have. During this year I will be putting all these together into database and distributing to my children and other I'Anson relatives.

I would be very interested in contacting other descendants of Sir Edward I'Anson - the Blakeways - and if they're out there and I don't know about them, any other descendants of Amelia I'Anson and Clement Bloomfield (the family scattered throughout Australia and I might have missed some...).

Kind regards,
Annette I'Anson Bloomfield

.
.


From: Sarah Fernley
Sent: Tuesday, April 24, 2007 1:32 AM
Subject: Thomas Ianson


Hi,

I am a descendent of Isaac Parkinson, the black smith who apprenticed Thos Ianson at Bolton Le Sands Lancashire, England in the 1850's. I visited the blacksmiths last week and much of the interior and exterior from 1851, when Thos Ianson was apprenticed still exists. I will send some photos if anyone is interested. His apprenticeship was facilitated by funds from Mansergh's Charity.

(NB I have asked Sarah to send photos and they will be put on the website when I receive them. MLI)



From: Joan Bleakley
Sent: 12 June 2007
Subject: Frederick I`Anson


I am trying to research my great, great grandfather who was
Frederick. He was married to a Sarah Taplin and born in Marylebone,
London. He was registered on my great grandmother`s birth
certificate
as a ship`s broker in Southampton. My great grandmother was
catherine
I`anson. She married beneath her and was cut off from her wealthy
family although she used to take my grandmother, born in 1881, to a
very rich house in London to see her uncle charles. We think he
could
be the Frederick born in 1813 to John I`Anson. Can anyone help me on
this?
Joan Bleackley.



Date: 12 Oct 2007
Subj: Frances I'anson LASS OF RICHMOND HILL Painting attached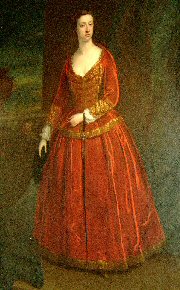 (to enlarge, click pic)

Dear Maureen

I recently went to Richmond North Yorkshire and visited the Kings Arms Pub there. They very kindly let me take some photographs of their painting of Frances I'anson - The Lass of Richmond Hill. I thought I would forward you a copy to display on your I'anson website.

Best Wishes

Julie BRUTNELL


Date: 29 Sept 2007
Subj: Lass of Richmond Hill

I have just found your interesting site. I was the person who first
suggested Turner's intention to depict The Lass in his watercolours of
Richmond, Yorks. I have Wenham's booklet, and corresponded with him, but do not agree with his conclusions. I also corresponded with some I'Anson descendants to establish the I'Anson tree which I have included in "J.M.W.Turner's Tonbridge & District" (2nd ed., September 2007, £15), which shows the Turner connection.

Dr Selby Whittingham
Turner House
153 Cromwell Road
London SW5 0TQ
www.jmwturner.org