Date: NOW
From: This could be you!

Write to me if you want to trace I'Anson ancestors or just to tell us about yourself.
For details on how to send me your own family history data
click here.
.


Date: 7 Aug 2002
From: Kevin I'Anson

Found your site a very good starting point to trace my family.

In the process I came across a Kelly's directory for 1908 in Hull-

I'Anson data attached ...you may wish to post this:


I'Ansons in Hull 1908
Source : Kelly's Hull Directory
I'Anson Miss Emily, nurse, 56 Prince's Road
I'Anson, Mrs Jane, shopkeeper, 67 Havelock street
I'Anson, John W., fruit and potato merchant,35 Humber street, Nat TN 551X4
I'Anson, Thomas Henry, printer, 42A Pryme street;
h 3 Nelson ave, Wellington lane. Corp T.N. 80X3
Ianson, William , 63 Argyle street.
Whilst I am in touch, has anyone any further info on Butler I'Anson or
Ebenezer I'Anson, both of Elloughton, back in mid 1800's? If so could this
be e-mailed or posted?

Regards
Kevin I'Anson


Date: 25 April 2002
From: Alan I'Anson in Preston, Lancs.

Hi Maureen, I was so surprised to find a website devoted to the I'Ansons. I
am Alan I'Anson born Preston, Lancashire in 1960 and my father was John I'Anson (very popular) born in Preston I think, about 1923 died 1969. I
don't seem to be able to find any links to the I'Ansons in Lancashire apart
from the information on the Preston Curling Club. Do you have an address for the Preston Curling Club? I could perhaps try to track down the photo of the cup you wanted?

When people hear my name they ask where it comes from. I never know what to tell them , but the popular belief in my family is that it is a Danish name.
I have sometimes quoted this, but have never known if it was really true. Do you know the origin? Is there a letter missing, hence the apostrophe?
[there is an on-going search for authentic evidence of the true origin of our name -- best guess is certainly Scandinavian MLI]

Thank you for the time and effort you have put in.

Regards
Alan
:


Date: 12 April 2002
From: Kami in USA

Hi Maureen,

I just came across your website on the I'Anson family. I am a direct descendant of Sarah E. Ianson of Morris Co., NJ and have some corrections for you on the data you show.

Her husband was Jabez V.P. Coonrod. Details are:

1-1 Jabez V.P. Coonrod (1836-1903) married (11jul1857) Sarah E. Ianson married 2nd: Amanda Davis (03Dec1879)

Jabez was a rivet maker and enlisted in the Civil War as a Union Private volunteer in the NJ 39th Infantry, Company "K" from 1864-65 which was stationed at the siege of Petersburg. After the war he worked as a farmer.

My sources are Jabez's Civil War military records (for his spouses and children) and this site (for his father and siblings):
http://www.rootsweb.com/~njmorris/doversschool.htm

You can find detailed info on Jabez's military history on my site at:http://geocities.com/g-leaves/Cw.html

Yours is the first Ianson info I have come across. I was wondering why Miles Jr's. father is not Miles? Also, what does the "NRY" in "Spennithorne, NRY, ENG" stand for? [North Riding of Yorkshire]

Lastley, do you have any info on the spouse's lines (Mary Harrison, Keziah Meeker, Ann Eliza King)?

*Any* info at all would be *very* much appreciated.

Thanks!

-- Kami



Date: 6 Jan 2002
From: Pat Smith in Scunthorpe, N.Lincs.

Hello Maureen

I am attaching a genealogy report for the descendants of Peter Ianson, of West Tanfield, North Yorkshire, England, who appeared on the 1881 census and whose daughter Elizabeth married John Walker Heslington, one of my ancestors.

Pat Smith

ATTENTION --
If you have any new babies (must be I'Anson/Ianson by name), marriages or obituaries that you would like to post, please e-mail full facts putting the words IANSON Birth or IANSON Marriage or IANSON Death in the subject box, as appropriate.


Date:23 Sept 2002
From: Brenda Pullen

Hi Maureen,

I would like to find the parents of my G.G.G.Grandfather John I'Anson born Langthorn 1788 North Yorkshire. He married Elizabeth ( maiden name not known).born 1787 Masham N.Y. Resided West Tanfield N.Y. Had children namely:
Marianne baptized 1812 --Nosterfield --1814
William baptized Masham he is my G.G.Grandfather.--William was a husbandman.
John baptized 1817 Nosterfield --
James baptized 1820 Nosterfield .
My G--Grandf was an agricultural labourer, John . Like many more people we could put a lot more.

Many thanks once again for your help.
Both myself and my hubby are retired people so Im thinking I'll never learn.
Take care .
Brenda Pullan( I'Anson)


Date: 24 Feb 2002
From: Anne Parsons in Cheshire

Dear Maureen,
A distant ancestor of mine was an I'Anson. Today I was searching the web when i came across the magnificent work you've done on the I'Ansons. The connection was with my Great Grandmother. Her mother was Jane I'Anson before she married John Clough in 1806. This Jane is the no.211 you refer to in your records and the 11th. child of Leonard ( no.179 ) and Ann Storrey, married 12/7/1768 at Hauxwell.
I am particularly thrilled to have found your web site because I really do think that my mother amd even her father didn't understand the connection. My Great Grandparents died when Grandad was only eleven. He had an older brother, Beckwith (Beckwith was his mother's maiden name), a sister who died as a child and a younger brother, Alfred I'Anson Davis. (He was killed at Ipres in WW1) and then there was my Grandfather, Charles Leonard Davis. He was always known as Leonard. I wonder if his parents ever told him why they'd called him Leonard and his brother, I'Anson. He was very young to lose both parents, so I doubt it.
My mother said that there was some Huguenot connection in the family somewhere. I'd always presumed it was the I'Ansons but now I realise that it couldn't possibly be as the Huguenots came later.
In your descendecy narrative Bryan I'Anson says that Capt. John came "to England with Henry at the time of the Battle of Bosworth".
Where from, I wonder? Probably from Brittany, I suppose. . . .
.
I'm hoping to go up to Hauxwell I a few weeks time and hope to visit St. Oswald's Church. Our daughter lives near Thirsk and has been visiting the Record Office there. She's trying to find the link with Hipswell. Jane's daughter was certainly Christened there and married there too.
I don't know where you live. I come from Cheshire. Congratulations on all the research you have done. It makes fascinating reading.
Best wishes, Anne Parsons.
Date: 19 Feb 2002
From:Deb in Brisbane

Dear Maureen, How are you? I hope this new year finds you well and happy. I have just been emailed a photograph of one of our Australian I'Anson's. It is from a book..Civic Records of South Australia 1921-1923. I'm not sure if you want it or if you are able to use it on your site? Would you like me to send a copy of it to you? (email it through)?

Deb in Brisbane

District Council of Waterloo (71)
Thomas Plested I'ANSON*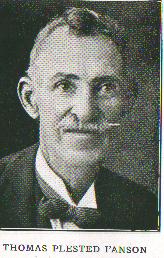 "For over 50 years a resident of Steelton, where he is well and popularly known for his active interest in the welfare of the district.
Mr T.P. I'Anson, for 19 years represented Steelton Ward as Councillor, in the District Council of Waterloo, and on several occasions visited Adelaide as district delegate. He has been a very keen advocate for local telephone, bridges and railway facilities. Mr I'Anson has also supplied the Police Force Indian Remount with horses bred on his property."
Deb


Date: 31 Jan 2002
From: Reg

Hi,
I am interested in researching the I'anson family from Yorkshire. Particularly Thomas I'anson born 1833 in Garton, East Yorkshire, who became a blacksmith and moved to Barrow in Furness ,Cumbria (formely Lancashire)

I came across the web site which has details of the "Yorkshire emigration to Nova Scotia" and saw the correction you had supplied regarding the Ainson family actually being Miles I'anson, etc and wondered if you had further information on the family.
. . .
Thank you for any information you can provide,
Reg

Follow-up letter: 5 Feb 2002
Be on the look out for errors in transcriptions! MLI

Hi Maureen,
Thank you very much for the reply, it has been very helpful.
I was doing some initial checking for my cousin (who lives at Heysham; Morecambe; Lancashire) Thomas Ianson was her great grandfather

> I am curious about your reference to "Thomas I'anson born 1833 in Garton, East Yorkshire". The 1881
>Census has the following entry giving Thomas's place of birth as Parton, Lancs.

This was a mistake on her part - she misread the birthplace as Garton - despite several attempts and a magnifying glass !!!

> I think I may well have another reference to him on my database, from the 1851 Census for Bolton-le-Sands.
> There is a Thomas Ianson age 19. Unmarried. Apprentice living in the household of Isaac Parkinson
>(Blacksmith). There it says he was born in Warton, Lancs.!

I wonder if the information in the 1881 Census was incorrect ? Using an ordnance survey road atlas I can only find one Parton and that is near Workington in Cumbria (discounting one in Scotland). There are two Wartons in Lancashire one is near Liverpool and the other one is within a few miles of Bolton le Sands where Thomas could well have been apprenticed to Isaac Parkinson at that time.
My cousin is going to assume that the Warton near Bolton le Sands is the most likely candidate and she is now going to try and trace where the Parish records are kept to try and obtain birth details, she does not have access to the internet so delegated me to try and find information !

If she gains more information I will e-mail and let you know the outcome (she has now roped in her sister to aid her as well !)

Thank you again for the information and pointing me towards your excellent web site.
Regards,
Reg