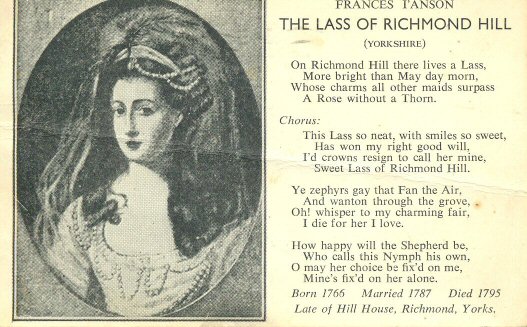 (Postcard sent to the author's grandparents on their Golden Wedding Anniversary, 1965)
A musical "Sweet Lass", was performed in Richmond in the 1970s, telling the story of Frances I'Anson.
A transcript is available to download here as a PDF file.
Songs can be downloaded here (rather quiet)
The script was by Ken Wadsworth and Angus Goodfellow, the songs by Brian Holdsworth.
Francis I'Anson died in Dublin in 1795, the wife of Leonard MacNally the author of the ballad. Since that time controversy has raged as to where she was born, the location of the "Richmond Hill" of the song (whether Richmond in Yorkshire or Richmond in Surrey); the authorship of the ballad, the composer of the music, and whether Frances I'Anson was, indeed, "the Lass".
The claims that she was "the Lass" are considered substantially proven but other aspects of the legend are challenged, especially her known associations with the two Richmonds.
She is alleged to have lived in Hill House in Richmond, Yorkshire, a house that has other claims to fame.
It is also associated with the Millbanke family, one of whom (Annabella) married the poet Lord Byron (one chapter of Wenham's book is devoted to this link).
Another legend is that the artist Turner deliberately included "the Lass" in some of his watercolours of Richmond, Yorkshire.
Certain facts of Frances I'Anson's heritage are known:
She descended from William I'Anson of Hauxwell, brother of Sir Henry I'Anson, 2nd baronet.
William married Abel Wyvill of Constable Burton Hall, in 1662, and their eldest son was named William.
He, too had a son, William, the grandfather of Frances I'Anson.
Frances's father was yet another William I'Anson who married Martha Hutchinson of Hill House, Richmond. Thus, Frances's connection with Hill House seems to be established.
Frances was baptised at Wensley, 11 November 1766
She married Leonard MacNally in 1787 at St George's Church in Hanover Square, London.
They had three children: Frances, Elizabeth and William.
She died in Dublin 30 Sept 1795.
Artist Unknown The Lass of Richmond Hill, Date Unknown.

Glass Painting. 10 x 14 in. (25 x 36 cm).

Reverse engraving on glass, coloured from the rear of the engraving.

(Source: http://www.stormfinearts.com)