Date: 22 Dec 2005

Dear Sir/Madam,

I am currently searching for direct ancestors of one of my maternal great grandfathers, Frank I'Anson, born High Agra Farm, High Ellingstring, Masham, North Yorkshire, England, on 21st July,1882(?), and who died 2nd January.1964..He married Eliza Mary Graham, of Lazenby, North Yorkshire, at St Mary's Church, Bolton on Swale on 23rd April 1902. They had three children, Frank born 1903, Lily born 1905, and Alfred born 1908 (?).

Eliza Mary's mother's maiden name was Carlton, so I am progressing well with that side of my family's history, however I should be very grateful if you could please add me to your mailing list of I'anson descendents interested in tracing the family history.

Many thanks,

Yours Sincerely,

Richard Clark.

CAN ANYONE HELP HERE? I HAVE NO INFORMATION YET ON THIS LINE. - Maureen



Date: 28 Nov 2005

Hello,

I see you are still searching for a picture for the I'Anson trophy.

My husband has just returned from curling in Stranraer, where he won the trophy playing third for his team, skipped by Phil Atherton. They have won it twice in the last 3 years.

You can see a picture of the cup here:

Best regards,

Friedel

NB: I have put these on this website, too LINK



Date: 18th February 2005
From: June Dunnett


John I'Anson was one of the executors of the Will of a lady who is related to my Stainthorp ancestors, one Ann Kettlewell of Laverton Mount, Kirby Malzeard. Her Will was dated 25 June 1872. Unfortunately he had passed away by the time of her Codicil in 1878 necessitating the appointment of a new executor/trustee. Whilst compiling some background information for this gentleman, I have unearthed (with the help of a friend) the following:

1871 Census for Howe, Yorkshire:

John Francis Ianson/ Head/Mar/57/Land owner Occupier of Farm 20729****/Melmerby

Mary Ianson/Wife/Mar/48/Dishforth

John Ianson/Son/Un/18/Lieutenant West Yorkshire Militia/Melmerby

5 Servants

Hope this is of interest to I'Anson researchers.

June Dunnett, Somerset, England


Date: 23 Feb 2005

We are in possession of a painting of a lady, mother to a Brian
Isacson. We are guessing at the surname as it is only a signature. The picture was left with my Grandfather in the 1950s for safe keeping by a relative. We now wish to trace the family

From our family tree we can find no similar name. However I found a connection of I'Anson, Walker and Parker, with various firms in the linen trade in Darlington and Lancashire and some marriages. So was wondering if there is a connection here.

The only detail we have is an address in St Meols Cheshire (1950s) for Brian, The Parkes of Withnell Fold Burnley, and possibly Thomas Walker (of Bolton and Darlington) and Parkers (of Darlington)

Does your family tree research give any clues, as we should like to
return the painting to its rightful family.

The I'Anson web site shows a marriage of Maria Walker daughter of Thomas Walker with William I'Anson in Leyburn 1762, possibly there are later connections.

Yours Tom Robinson

Following my reply:
Date: 24 Feb 2005
Dear Maureen Ille
The painting of Brian (I*a*son)'s Mother. The indecipherable signature is on the letter not the painting

If the letter was written in the 1950s, to my retired grandfather I
would expect from the tone and context that Brian would be younger so say born in the early 20th Cent, and that my Grandfather at least knew or was related to the 'Mother'.
We have NOT found any I'Ansons on the tree, but my Grandfather's mother was from an extensive Walker family working in Darlington, and I note the family had business connections with the I'Ansons there, so possibly had family connections too.

The painting is Edwardian. I do not know the artist's name, next time I shall have a closer look for a signature.

Regretably this all the information we have, so it is making it very
hard to find an owner!

Best Wishes Tom Robinson.

NB No further news, no photo I'm afraid. MLI


Date: 5 April 2005

My grandparents' first-born was given the name Vernon I'Anson Wakefield. He was born in Greenville, SC and died at the age of nine months. No one now living in the family has any idea why he was given this rather unusual name.
Could you give me any clues?
Ted Wakefield


Date: 05 June 2005

Hello again Maureen
I have been away from the family history research for a couple of years due to family ill health and bereavement of two Mum's (mine and my inlaw); so, I am now back in the saddle so to speak.
Having become very excited about the release of the 1861 Census on line I am back to being despondent on the response to the spelling/interpretation of the good old I'Anson name. Anyway, I will persevere but in the meantime I have discovered a couple for anyone seraching their own members.
Our own family connection from Welton 'George' and family were eventually found using a wildcard. He was found under the transcription of 'Tonson'; so that is one option to search through.
Then whilst looking for a John I'Anson from Hull aged 26 in 1861 I came across this one in Scarborough under the name Johnson. (RG9 3619 Entry No 82 address is 21 Newboro, Scarborough. This one is born in Leeds and is aged 27.
Hope this may be helpful.
Regards
Michele I'Anson
Thirsk
PS I am on the lookout for any futher information for the John & Anne Ianson from Welton, East Yorkshire - married 1801. She was a Wilson prior to her marriage.


Date: 14 July 2005

I have recently started researching my I'anson tree and saw a reply to a query regarding Hiram I'anson.I know it was a couple of years ago but I thought you may be interested anyway. Frederick Hiram I'anson was my greatgrandfather on my fathers side. His daughter Annie Mary I'anson married Charles William Smith on 31st. March 1913, aged 24 years she died in the flu epidemic of 1918. On her marriage certificate her father is stated to be deceased.
If you have any further information pre William circa 1847 or know where it is available I would be grateful for any help.

Thanks Vi



Date: 07 Oct 2005

Dear Dr Ille,

Re: Colin Buck's Postcard Index

Colin has now retired and I am now the proprietor of the Postcard Index and Archive.

I should be grateful if you would publish this e-mail on your site to update and correct the existing information.


Kind regards,

Sandra Hewetson,

+++++++++++++++++

Proprietor of Colin Buck's Post Card Index. Presently Volume 9, (including Volumes 1-8).

CD ROM of 100,000 Old British Picture Postcards Indexed by Name, then Location & Postmark Year 」12.00. Searches 」2.00 per Name (minimum 」4.00). Original Postcard 」1.50 each. CD ROM of each postcard Image 」0.75p. All Postage paid to UK addresses. A finding aid for the 1901 & 1911 Census. Broach your "brickwall"!!

See Practical Research Indexes at www.parishchest.com for other tried and tested genealogy products or visit our website at www.practicalresearchindexes.co.uk



Date: 12 August 2005
This one came from the Spanish name Ansón, with the stress in the last vowel to make it more similar to the pronunciation in the Spanish language.
There is not doubt that the origin is the same but the word evolved to this name.
Hope this possible new variant helps you.
It has been very nice to contact to you with something so close to me.
Best Regards.
Jesus Anson.


Date: 23 Feb 2005

Hi there, I have a small oil painting titled "Wind and Sky" dated 1895 signed by I'Anson and I wonder if this person is among your ancestors. . . .

Just curious,
Susan

MY REPLY:
Dear Susan
I am most interested in your I'Anson painting -- is there an initial? We did have a branch of the family with at least two painters in the 19thC. They were a London family. One was Frederick I'Anson R.A. b. 1813, the other was Charles I'Anson R.A. (Frederick's nephew) b.1849.
I have never seen any of their work, but I have this in my notes about Charles: "entered the Royal Academy Schools in 1874, and he lived in London. He painted landscapes, coastal and river scenes." My only information on Frederick's painting is that he "exhibited portraits with or without animals between1833 and 1837" -- he is probably too early in any case.
I would love to see a photo of your painting as I am an art historian and particularly interested in knowing more about the I'Anson artists.

Regards
Maureen

The result is this painting: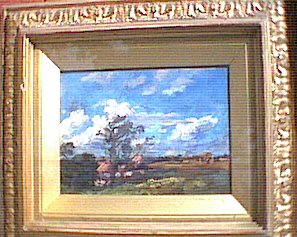 The painting was in my grandfather's house in Sussex. My grandfather's family had originated from the Wright family of Osmaston, Derbyshire. In the 1980's many of the paintings were sold at auction by Sotheby's. . . .
I had the painting evaluated at the Canadian Antiques Roadshow in Vancouver last year, they suggested at least $1,500 even tho' they had no information on the artist.
Thank you for your information I will put it with the painting.
Regards,
Susan


Date: 5 April 2005

Dear Ms Ille,

My researches over the past 20 years show I am descended from John I'Anson, Christopher, Ralph, William, Leonard, Leonard, Gabriel, Gabriel, Gabriel, Gabriel (b. 2/8/1788).

I have been trying to find some support for two of Bryan I'Anson's 1915 suggestions without success:

1. That John I'Anson was a son of Jacques de Forbin (d. 7/4/1492), son
of Jean I, 1st Marquis de Janson (b. 1380, Marseilles). The French sites I have visited list four children of Jacques but no Jean/John. I
cannot find any Jean de Forbin on the French sites fitting the John
I'Anson dates.
2. That the first de Forbin was Peter de Forbes (Pierre de Forbin)(b. 1303/4), posthumous son of Alexander de Forbes (d. 1303 Urquart Castle). I have found, for instance, a Palamede de Forbin b. about 1310 in France (whose daughter Marguerite married into the Grimaldis of Monaco in about 1350 - I have yet to confirm the date but imagine the Grimaldi tree has been well researched over the years from reliable sources and it should be possible to pin this down quite accurately).
Given the Pierre birth date is fixed, I suppose there could be a
possibility Palamede was born a bit later but that the one and only slot open for him would be brother to Guillaume (b. 1330, Flanders), son of the first de Forbin, Peter de Forbes.

In your own researches, have you been able to find any support for these two particular links in the chain back to Scotland? Given they are central features in your website and in the genealogy of all I'Ansons, you have probably faced these questions before.

If you have not, perhaps you would publish this on your website and someone may have something useful to add.

Regards,
Malcolm I'Anson
Hong Kong