This complete book is available to read online.
Just click the image below to link to the Open Book website.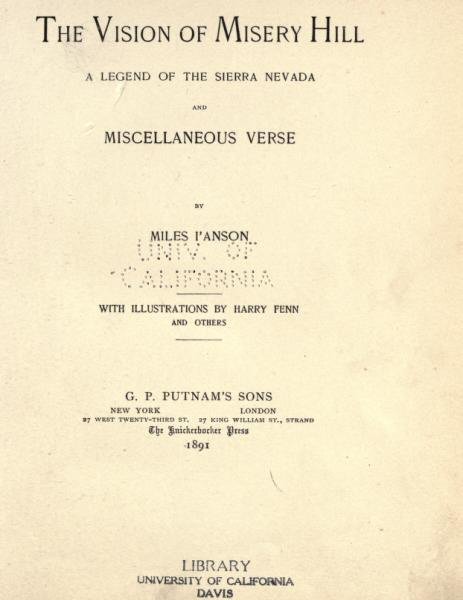 Miles Jones I'Anson was baptized on 6 November 1835 at Middleham, NRY, ENG
He appeared on the census of 1841 at High Market Place, Middleham, NRY, ENG:
JONES Stephen/70/shoemaker/Y
IANSON Samuel/30/tailor/Y
IANSON Robert/10/Y
IANSON Elizabeth/8/Y
IANSON Miles/6/Y.

He appeared on the 1850 Newark, New Jersey Census (as a border with the Dunbar family - #34):

"Miles Ianson; 16 yrs., Porter, born England"
He married Elizabeth V. Flintoft, daughter of John Flintoft and Elizabeth I'Anson, before 1862 at Newark, Essex, NJ, USA.

Children:

Alice I'Anson (b. circa 1872)
Beatrice I'Anson (b. circa 1875)
Miles I'Anson (b. circa 1876)

In 1880 census USA he appeared as Miles J. Adson.
c.1875 he was photographed at a studio in Valparaiso with all the kit of a gold prospector (from a photo album inherited by Tim Morrell). He was on his way to join the California Gold Rush.
Between 1875 and 1891 he was a mining engineer in California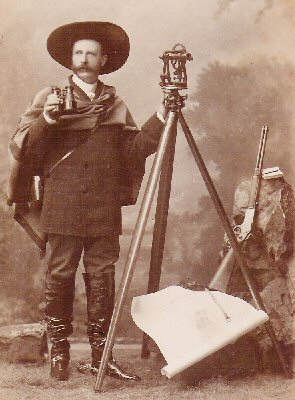 In 1891 his book of verse "A Vision of Misery Hill" was published in New York and London - there is a copy in the British Library.
He died in 1917 aged 82. He was buried on 20 November 1917 at Mount Pleasant Cemetery, Newark, Essex, NJ, USA.