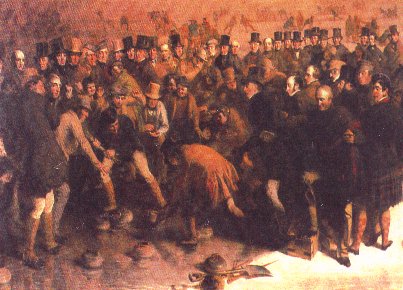 The Grand Match at Linlithgow 1848 by Charles Lees (detail)
(A composite portrait of all the curling notables of Scotland )
This oil painting of the second Grand Match, that took place 25 January 1848 on Queen Mary's Loch, Linlithgow, was for the purpose of showing "faithful portraits" of forty-seven notable Scottish curlers of the day. One of these, in the back row, is William I'Anson Sr.
The painting was purchased by Mr Piper, one of those portrayed, but it now belongs to the Royal Caledonian Curling Club. Artist's proofs, published at ten guineas, are scarce, but engraved prints are "plentiful and cheap" according to a footnote in Modern Curling Ch.II, p.271 (author and date not given in our source). The book also lists all the people portrayed in the painting with a key diagram (p.270).
The painting was used as an illustration on Scottish Air Mail Letter Cards in 1993 to commemorate the 150th anniversary of Queen Victoria's granting the title 'Royal' to the Caledonian Curling Club, the mother club of curling throughout the world.
..