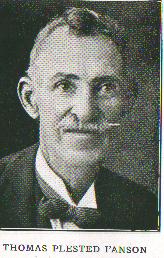 District Council of Waterloo (71)
Thomas Plested I'ANSON*
For over 50 years a resident of Steelton, where he is well and popularly known for his active interest in the welfare of the district.
Mr T.P. I'Anson, for 19 years represented Steelton Ward as Councillor, in the District Council of Waterloo, and on several occasions visited Adelaide as district delegate.
He has been a very keen advocate for local telephone, bridges and railway facilities.
Mr I'Anson has also supplied the Police Force Indian Remount with horses bred on his property.
(submitted by Deb Rawlins Feb. 2002)