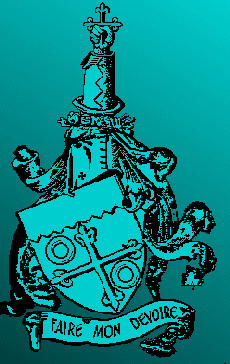 The I'Anson baronets were of a so-called "armorial family". This is the coat of arms they were authorised to bear:

I'ANSON COAT OF ARMS: Quarterly azure and gules, a cross flory, in the first and fourth quarters an annulet or, a chief. (It should be noted that not everyone bearing the name is authorised to bear the Coat of Arms. See Heraldry)

I'ANSON MOTTO:
"Faire mon devoire" means "to do my duty" (or "to do my homework" if one is young enough - or, indeed, if one wants to be a good genealogist!). This motto, however, seems to have been adopted "recently" according to the author of the 'History of the I'Anson Family', Bryan I'Anson.
"Rien sans travaille" ("nothing without labour") is the motto on the 17thC monument of Sir Bryan I'Anson at Ashby St Legers.